via Spaceweather.com
June 2nd just before 4 a.m. MST, a small asteroid hit Earth's atmosphere and exploded over Arizona. "There was a bright flash and the ground shook from the explosion," reports Chris Schur of Payson AZ, who says the flash of light was about 10x brighter than a full Moon. The explosion actually blinded a NASA camera located at the Fred Lawrence Whipple Observatory on Mount Hopkins, Arizona: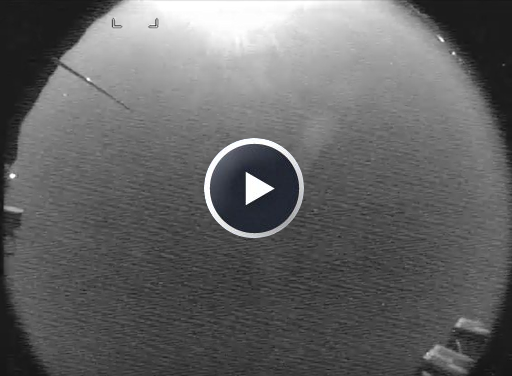 Watch
the complete movie
to get a sense of how bright the fireball was. The fact that the explosion saturated most cameras that saw it initially complicated analysts' efforts to pinpoint its nature and origin.
Schur missed photographing the explosion itself, but "we were able to get images soon after of the smoke train from this object." Here it is, twisting in the winds of the upper atmosphere before sunrise: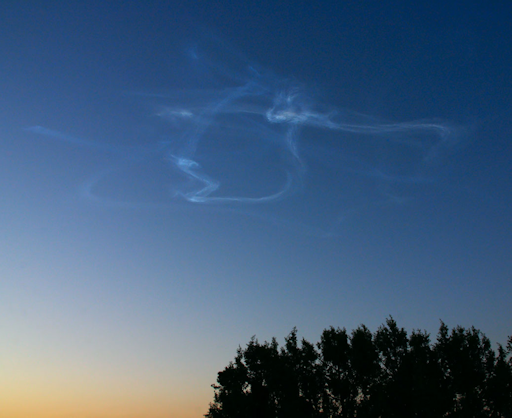 Bill Cooke of NASA's Meteoroid Environment Office says this is the brightest fireball detected in the 8-year history of the NASA's
All Sky Fireball Network
, an array of cameras that monitors fireball activity across the USA. According to NASA analysts, the asteroid was ~10 feet (3 meters) in diameter with a mass in the tens of tons and a kinetic energy of approximately 10 kilotons.
Eyewitness reports placed the object at an altitude of 57 miles above the Tonto National Forest east of the town of Payson, moving almost due south. It was last seen at an altitude of 22 miles above that same forest.
"There are no reports of any damage or injuries—just a lot of light and few sonic booms," says Cooke. "If Doppler radar is any indication, there are almost certainly meteorites scattered on the ground north of Tucson."
https://www.youtube.com/watch?v=lhjHqItKuGM