JAPAN:Kumamoto
Country Japan
County / State Prefecture of Kumamoto
Area Greater Uki City region
Settlement
Coordinate 32° 38.871,130° 41.062
Number of affected people / Humanities loss
Dead person(s) 42
Injured person(s) 1500
Missing person(s) 10
Evacuated person(s) 200,000
Many Japanese manufacturers in the region have been forced to halt operations at their factories in Kumamoto and neighboring areas and more than 478 foreshocks or aftershocks were registered as being able to be felt by humans since Thursday, including two measuring 7 and three on the upper six of Japan's seismic scale. Japanese government spokesman Yoshihide Suga says 1,500 people have been injured, 80 of them seriously, in twin earthquakes on southern Kyushu island. Nine died in the quake on Thursday night. The fortification in the city of Kumamoto has stood as one of Kyushu's icons ever since it was built in 1607 by Kiyomasa Kato.
Some shelters were too crowded to admit any more people
, it said. Prime Minister Shinzo Abe said Japan's rescue effort was to be augmented by the United States military. The Nikkei stock index ended the morning session 3 per cent lower, hit by a stronger yen and as investors weighed the impact of the disaster on manufacturers' supply chains and insurers. The tsunami warning has since been lifted by Japan's Met Agency. All commercial flights to the damaged Kumamoto airport were cancelled and Japan's bullet train to the region suspended. Self Defence Forces personnel in the town of Mashiki, close to the epicenter, were providing food and water. "We received only one rice ball and one cup of ice cream", a 25-year-old mother with a baby was quoted as saying. More than 3,000 packages of food and almost 8,000 sleeping kits were being delivered. NHK added that "
hundreds of thousands of households are without electricity, gas and tap water
".
Japan's Kyodo news agency reported that about 380,000 homes in Kumamoto were cut off from water supplies.
Though much of Toyota's manufacturing is centered in central Japan's Aichi prefecture, the company has suppliers scattered across Japan and worldwide. Toyota said it would suspend operations in stages at most of its vehicle assembly plants across Japan for roughly a week beginning April 18 as it was unable to source parts from some of its suppliers including affiliate Aisin Seiki. One of its major customers is Apple, which uses the sensors in its iPhones. A magnitude-6.5 quake struck late Thursday, killing 10 people. On Saturday, there were around 90,000 people. Overnight, rescuers digging with their bare hands dragged some elderly survivors, still in their pyjamas, out of the rubble and onto makeshift stretchers made of tatami mats. The Tanakas joined about 50 other residents of the southern Japanese town of Ozu who were planning to sleep in their cars at a public park Saturday after two nights of increasingly terrifying earthquakes that have killed 41 people and injured about 1,500, flattened houses and triggered major landslides. Hotel staff told guests, including tourists and journalists covering the quake, to evacuate their rooms and gather in the lobby for safety. "The four islands of Japan are on the edge of what's traditionally been known as the "Ring of Fire" - a stretch along parts of the Pacific Ocean prone to volcanoes and earthquakes. "We have already seen of several of the mid to upper 5 plus magnitude range, and over the next several days and weeks, we would not be surprised to see more earthquakes of this size", John Bellini, a geophysicist with the USGS, said. A magnitude 9 quake in March 2011, to the north of Tokyo, touched off a massive tsunami and nuclear meltdowns at Fukushima. In Kumamoto, around 91,000 people were evacuated to over 680 shelters.
ECUADOR:
Country Ecuador
County / State Departmento de Esmeraldas
Area 16 miles south of MuisneSettlement
Coordinate 0° 27.798,80° 48.700
Number of affected people / Humanities loss
Dead person(s) 350
Injured person(s) 2500
Missing person(s) 0
Evacuated person(s) 0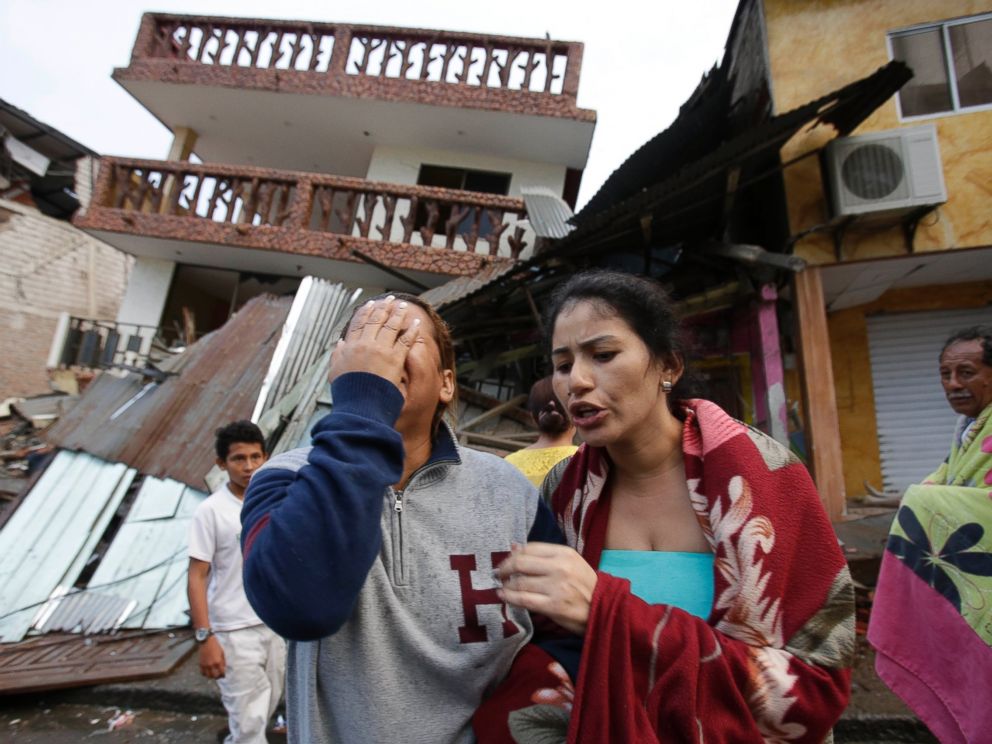 The death toll from the 7.8-magnitude earthquake in Ecuador has risen to 350, and
many survivors are believed to still be trapped inside collapsed buildings
. The security minister, Cesar Navas, announced the updated toll and said rescuers were continuing to seek more victims and survivors. More than 300 aftershocks have rattled Ecuador in the 36 hours since Saturday's quake, some measured as high as magnitude 6.1, according to the country's Geophysics Institute. Speaking before the latest death toll was announced, Ecuador's president, Rafael Correa, said an earlier figure of 272 would "surely rise, and in a considerable way". Correa said citizens would pull together after the disaster. "The Ecuadorian spirit knows how to move forward, and will know how to overcome these very difficult moments," he said.
More than 2,500 people were injured in the disaster,
which brought down housing blocks and air control towers, buckled bridges and cracked pavements. In the coastal town of Chamanga, authorities estimated that more than 90% of homes had been damaged. At least 100 of those killed in the quake were citizens of the regional capital Portoviejo. They included the Quinde family - a mother, father, teenage daughter and toddler son - killed when a four-storey hotel collapsed on their car. The Quindes were en route to drop off Sayira, 17, for her first term at university, where she had won a scholarship to study medicine. "I never thought my life would be destroyed in a minute," her aunt Johana Estupiñan told Associated Press. At a girls' school in Playa Prieta, six members of staff including a Northern Irish nun were killed as the building collapsed. Sister Clare, 33, from Derry, was a nun in the Home of the Mother order. Her family said they believed she had been trying to lead colleagues out of the school to safety when a stairwell collapsed. "She was trying to get them down the stairs and the staircase collapsed. We knew she was trapped but information has been slow to come out," her cousin Emmet Doyle said. "She died as she lived, helping others."