Facebook post on CNN's earthquake article...
Dahal Diwakar
i beg foreign countries and INGO'S to immediately carry rescue operations so that many life can be safed..plez help our country...
A powerful earthquake struck Nepal less than 50 miles from the capital, causing hundreds of deaths.
Avalanches were reported on Mount Everest
.
At least 876 people are known to have died in a powerful earthquake in Nepal, with many more feared trapped under rubble, officials say.
The 7.8 magnitude quake struck an area between the capital, Kathmandu, and the city of Pokhara,
the US Geological Survey said
.
Tremors were felt across the region, with further loss of life in India, Bangladesh, Tibet and on Mount Everest.
The government has declared a state of emergency in the affected areas.
Nepali Information Minister Minendra Rijal said there had been "massive damage" at the epicentre, from where little information is emerging.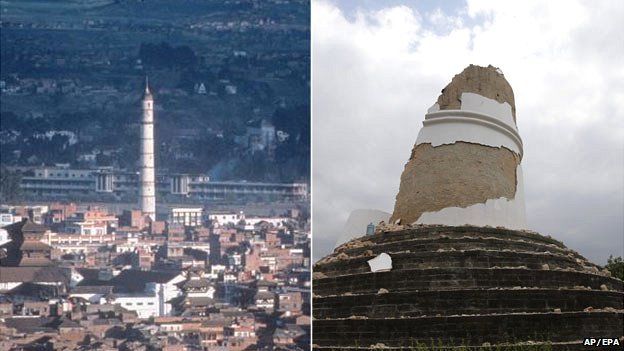 Major historic monuments in the Nepalese capital have been destroyed in the powerful earthquake, eyewitnesses and officials have said.
These include a nine-storey tower, temples and some parts of what was once a royal palace, all listed as Unesco world heritage sites.
Pictures posted on social media show some of the monuments have been reduced to rubble.
Eyewitnesses say several others now have cracks and could collapse.
Officials have said some temples and monuments at other world heritage sites near Kathmandu have also been damaged.
These sites are Nepal's major tourist attractions.
Nepal had lost several such monuments during a major earthquake in 1934.