via CNN
http://www.cnn.com
By
Kim Segal and Tom Watkins
, CNN
Everglades National Park, Florida (CNN) -- Six short-finned pilot whales have died and about 45 other whales were trapped Wednesday in shallow water off Florida's Everglades National Park.
Wildlife officials were trying to rescue the whales, which were found Tuesday stranded on the park's remote Highland Beach or trapped nearby in shallow water, Everglades park spokeswoman Linda Friar said.
Rangers found an unspecified number of whales beached, and others in the shallow water, after a fishing guide reported seeing one of the whales Tuesday afternoon, Friar said.
Wildlife workers were able to get some of the beached whales back into the water, she said.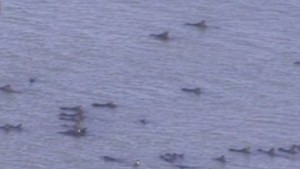 The whales are believed to have approached the beach at high tide, but were unable to leave when the tide dropped, she said.
On Wednesday, they were stranded in "miles and miles" of shallow water, said Blair Mase, a marine mammal scientist with the National Oceanic and Atmospheric Administration. Officials were prepared to euthanize them, if needed, but were simply observing them, she said.
In all, 25 people were involved in rescue efforts, including officials from NOAA, the Marine Mammal Conservatory and the Marine Mammal Rescue Society, Mase said.
Fishermen spotted the whales, several of which had beached themselves, on Tuesday night in a remote area accessible only by boat off the west coast of the Everglades.